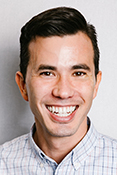 Senior Advisor & Chief of Staff
Anthony Garrison-Engbrecht serves as Senior Advisor and Chief of Staff for the Division of Student Affairs. In this role, he serves as a key strategist to the Vice Chancellor for Student Affairs on matters of long-term and strategic planning, resource allocation, personnel matters, divisional processes, and policy and is responsible for continuous and integrated improvements on all such matters. Previously, Anthony served as Assistant Dean of Students and Director of the LEAD Center (Student Activities) at the University of California, Berkeley and the Director of Leadership Programs and LGBT Student Services Loyola Marymount University.
Garrison-Engbrecht, originally from Kansas, received his bachelor in sociology from Loyola University New Orleans, a master's in educational psychology from Pepperdine University, and a master's in Theology from Loyola Marymount University. He completed his Ph.D. in Education with an emphasis in Culture and Curriculum at Chapman University.