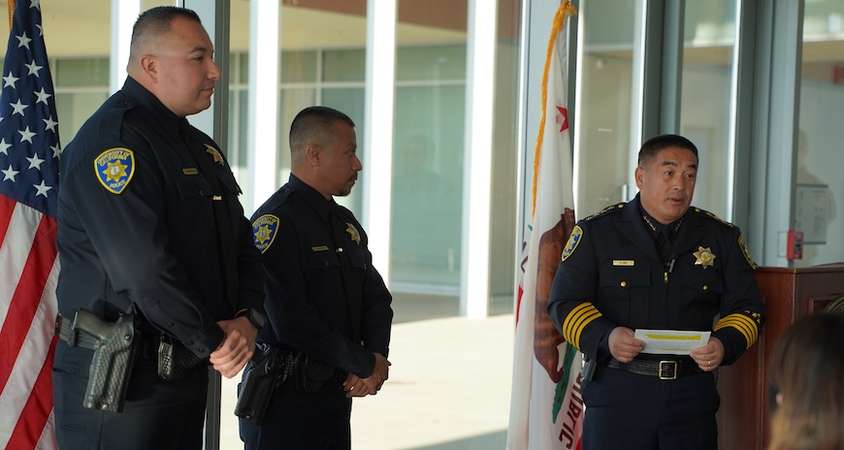 UC Merced police officers Enrique Rodriguez and Brian Carbaugh were on routine patrol July 26. Carbaugh had recently joined the department and was undergoing field training with Rodriguez.
At 6:22 p.m., they were dispatched to the Joseph Edward Gallo Recreation Center on campus for a medical aid call. A gentleman who had been involved in a pickup basketball game had collapsed.
"The report was that someone was having a heart attack," said Chief Chou Her. "When they arrived, people were performing CPR and attaching the automatic external defibrillator."
In addition to the apparent heart attack, Her said, the man was bleeding after hitting his head as he fell. A doctor who also had been part of the basketball game helped administer the automated external defibrillator (AED), but the man fell back into cardiac arrest as the device recharged.
"The officers jumped in and started performing CPR," Her said. "It's one thing to do it in a classroom, and another to do it when it really counts. And then to do it in front of a crowd."
The AED was recharged, the man was revived and taken to a local medical center for further treatment.
On Monday, Her hosted a ceremony where Rodriguez and Carbaugh were recognized with UC Lifesaving Medals for their efforts. At the same ceremony, Her administered the oath of office to the campus's newest officer, Kenneth Le.
"To this day, the patient is in good health," said Her. "If CPR was not performed, the patient might not have lived."
The award is not given lightly.
"We've only had this awarded once before on our campus," the chief said.
"These officers did not seek this recognition," Her said. "I thank them both for standing up to do the right thing without hesitation."
A UC police chief makes a nomination, then chiefs from all the UC campuses review the reports and the bodycam footage and vote on it.
"One chief can veto the award," Her said.
Police officers are not often first on the scene for medical aid calls - ambulance staff and firefighters generally arrive first.
Responding to crime is what officers train for, Her said. "Responding when someone needs our help to live to the next day is a major, major accomplishment."
Rodriguez said the impact of what had happened hit him a couple weeks later.
"He got to see his son at a basketball camp," Rodriguez said of the patient. "There is a son who got to see his father. I'm glad we were in the right place at the right time."
Le comes to the campus from Santa Clara, where he served as a corrections officer. His commute is far shorter, as Le and his family live in Merced.
"It's a great pleasure to be here," Le said. "I can't wait to be part of this team. They work together to solve problems, and I'm all about it."