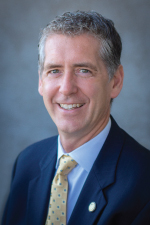 Vice Chancellor for Student Affairs
Nies has worked in higher education for more than 20 years in a variety of roles. He was the dean of students at a small private college, a program director for a minor in leadership studies and an assistant dean of an interdisciplinary school at a large public university. As an instructor, he has taught undergraduate and graduate courses in leadership theory, organizational theory, student development and social identity development. He has served as a consultant to a number of universities, non-profit organizations, and public agencies.
His area of research is leadership and social change. Nies earned his bachelor's degree from the University of St. Thomas as a double major in psychology and theology. He received a M.A. degree in counseling psychology and a Ph.D. in educational leadership/leadership theory from Washington State University.