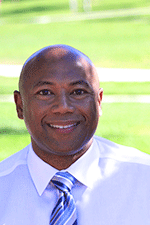 Assistant Vice Chancellor
Martin Reed serves as the Assistant Vice Chancellor for Student Life & Residence Education. In this capacity, Martin is responsible for ensuring the mission to provide clean, safe, inclusive and student-centered residential communities is achieved. Reed brings with him more than 16-years of student housing experience from UC Irvine, UC Berkley, and Western Washington University. Reed's professional background is diverse and blends perfectly with the broad range of job duties required of the director position. Throughout his career, Martin has been known for developing effective teams, serving as a strong student advocate, and as an effective leader during periods of extreme growth and change. At UC Irvine he successfully worked with university faculty, staff and students to create unique academic themed and Greek living-learning communities that fostered an atmosphere of academic excellence and leadership.
Reed, originally from San Diego, received his bachelor's in communication studies at California State University, Northridge, and completed his master's in public administration at Clark Atlanta University, with an emphasis on public policy.