Why take the Start with Why Workshop?
Because people don't buy what you do; they buy why you do it.
Because finding your why shows passion and inspires others.
Because your why is what it is all about. It is your cause and your fuel. It is the reason you get out of bed in the morning.
Because your departmental, organizational and personal why guides your life; it is your vision statement.
So why take the Start with Why Workshop? Well why wouldn't you? Come find your why.
These workshops will be facilitated by Steve Lerer, Associate Director in the Office of Leadership, Service and Career and Gallup Certified Strengths Coach. The "Start with Why" component of the program will use Simon Sinek's TED talk as a guide in generating personal why statements relating to your work at UC Merced. Participants will then receive an access code to the CliftonStrengths Assessment and will be able to sign up for a 45min coaching session with a campus based certified coach.
Please contact us at cliftonstrengths@ucmerced.edu if you wish to schedule a workshop for your department.
"I went into the 'Start with Why, Discover your Strengths' workshop thinking my 'why' would relate specifically to reducing food waste. This workshop showed me that my 'why' is broader than that and thus more powerful. My true 'why' is about creating a better, more sustainable world by working together to solve some major local and global issues. This workshop allowed me to find my 'why' and to learn how my work achieves the 'why.' I can also utilize what I learned through the Strengths Coaching so that I can leverage my strengths as well as my student staffs' strengths to work more effectively and to achieve our collective 'why.' These two workshops were both informational and inspirational."
~ Erin Meyer, CropMobster Coordinator
If you have questions about the program, contact Steve Lerer at cliftonstrengths@ucmerced.edu
Please Note: This is a two part program, you must attend a "Why" workshop prior to receiving a code and coaching with the CliftonStrengths Assessment.
Sign up for your post workshop coaching session: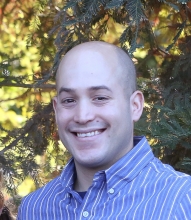 Steve Lerer
Futuristic - Strategic - Competition - Command - Significance
https://calendly.com/stevelererucm/cliftonstrengths-staff-coaching